Are you an undergraduate student in a Nigerian University? If so, you are eligible to apply for the Jim Ovia Scholars Program.
Registration has commenced. Once you are registered, you will have access to the online application form which will be available from September 15 to November 15 this year.
The Jim Ovia Scholars Program was founded since 1998. It is fully funded by Mr. Jim Ovia to provide financial aid to outstanding Nigeria youths. The scholarship was previously known as the MUSTE scholarship. Eligble awardees are supported for their undergraduate and graduate study for the duration of their program and includes tuition and maintenance allowances. The scheme offers an average of 100 opportunities each year for new applicants while renewing applicants are supported annually, conditional on meeting all eligible requirements of the scholarship. Since October 2010, Mr. Ovia has invested over 100 Million Naira in the program to support 1500 beneficiaries and counting.
ELIGIBILITY AND CRITERIA:
The scholarship is open to all potential students of Nigerian citizenship. One hundred (100) awardees are selected each year from a pool of eligible applicants. Scholarships are awarded on the basis of personal intellectual ability, leadership capability and a desire to contribute to society at large to improve the lives of others.
GUIDELINES FOR NEW APPLICANTS
Applicants should visit this link to apply
a) Completed online application
b)  Valid Government ID (e.g. International passport, Voter's Card, National ID or Driver's License).  Please note that a certificate of origin or birth certificate will not be accepted as a valid form of ID. The only exception will be for minors below the age of 18 years who are unable to apply for a government ID. In which case, a birth certificate will be accepted in lieu of a government ID for such minors.
c)  An official original letter (not photocopied) letter from your school/Head of Department stating the following:
– Your full-name
– Course Title
– Department of Study
– CGPA
– Gender
– Matriculation number
OR Newly matriculated who have not yet received a matriculation number or school ID must provide a provisional admission letter to their institution of study.
d)    Original Secondary School Certificate (WAEC or NECO)
e)    Original JAMB certificate
f)     A valid student ID for your host institution(University/College)
g)    A passport photograph
ALL APPLICANTS ARE TO READ THE SCHOLARSHIP APPLICATION GUIDE
REAL PAST QUESTIONS FOR THIS TEST IS AVAILABLE.
---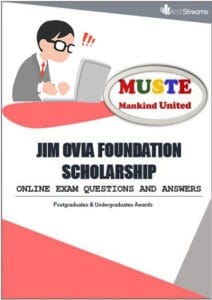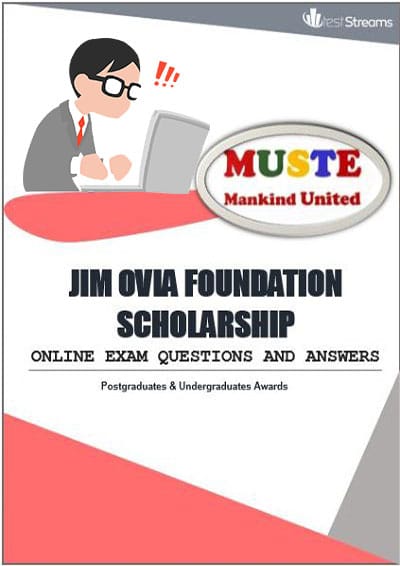 Early preparation using the right study material is the secret to success in the Jim Ovia Scholarship test. As with every competitive scholarship, you will need to have an edge over every other candidate to be one of the few selected awardees.
We have gathered the real past questions over the years to guarantee your success. This study pack is instantly available on our website, and has helped 29 candidates pass the test last year alone.
We advice you get this pack now and kick-start practice